Den Nationale Scene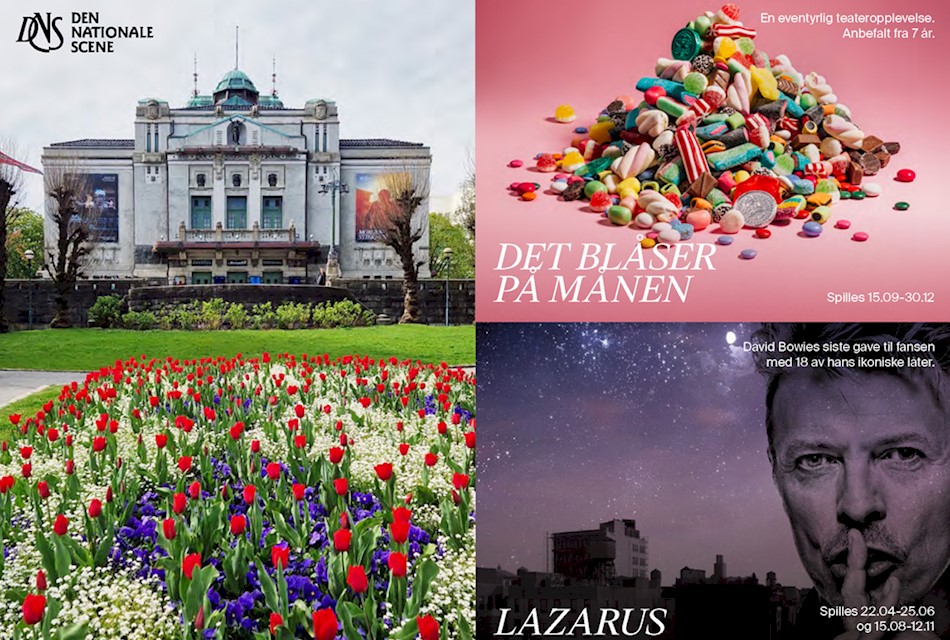 Lyst på en underholdende og minneverdig teateropplevelse?
Den Nationale Scene (DNS) ligger i hjertet av Bergen, og tilbyr teaterforestillinger for barn, ungdom og voksne.
På teateret kan både liten og stor oppleve minneverdige teaterøyeblikk. Ta med familien og få med deg litt magi, humor og spenning. Følg med på dns.no for å se hvilke barne- og familieforestilliger som spilles.
Velkommen på DNS!
Slik går du frem: Med Aktivitetskortet får du to gratisbilletter. Billettene kan bestilles på telefon 55 60 70 80, e-post: dns@dns.no, eller i billettkontoret på teateret.
Billettene hentes på billettkontoret. Husk å ta med deg Aktivitetskortet når du skal hente. Vi har et begrenset antall billetter til Aktivitetskortet, og du anbefales derfor å bestille i god tid.
Åpningstider billettkontor: Mandag–fredag: 11–20, lørdag: 11–18.
Her finner dere oss: 
Den Nationale Scene: Engen 1, 5803 Bergen
T: 55 60 70 80 – E: dns@dns.no
Nyheter
Sist oppdatert

- 18.11.2022 13.09
Experience a memorable and entertaining play at The National Stage!
The National Stage (DNS) is located in the centre of Bergen, and offers shows for both children, youths and adults.
At the theatre, you can experience great theatrical moments. Bring your family and encounter magic, humor and excitement.
Go to www.dns.no to see which plays are available for children and youths.
Welcome to DNS!
What to do: The Activity Card gives you two free tickets. Tickets can be ordered by phone +47 55 60 70 80, by sending an e-mail to dns@dns.no, or by visiting the theatre's box office.
Tickets are issued at the box office. Remember to bring your Activity Card with you when collecting. Please note that ticketse available for Activity Card holders are limited.
Box office opening hours: 
Monday–Friday: 11–20 
Saturday: 11–18
Where to find us: Den Nationale Scene: Engen 1, 5011 Bergen T: 55 60 70 80 – E: dns@dns.no
www.dns.no
Nyheter
Sist oppdatert

- 18.11.2022 13.09